Hurricane Matthew Hygiene Drive - Due to intense need, the hygiene drive has been extended until 10/27/16. Please continue to bring in supplies.
Saturday - October 22nd
Swansboro Marching Pirate Invasion - 10:00 AM
Bury the Dead Play - 7:00 PM - https://goo.gl/eEqFHS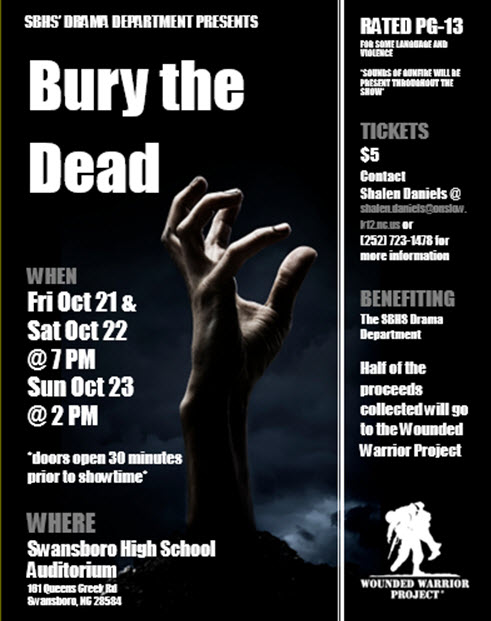 The SBHS Drama Department will be presenting Bury the Dead for its Fall 2016 production. The play takes place during a future war where soldiers are killed in battle and come back from the dead. The show will be presented on Friday and Saturday, October 21 and 22, at 7:00 PM and on Sunday, October 23 at 2:00 PM in Swansboro High School's auditorium.
Tickets are $5. If you would like to purchase tickets or would like more information, please contact Shalen Daniels either by email or phone.
shalen.daniels@onslow.k12.nc.us
(252) 723-1478
Sunday - October 23rd
Bury the Dead Play - 2:00 PM
Monday - October 24th
JV Soccer vs White Oak - 4:00 PM
Tuesday - October 25th
V Soccer vs W. Craven - 6:00 PM
Wednesday - October 26th
PreACT Given - 7:15 AM
JV Soccer at West Carteret - 7:00 PM
Thursday - October 27th
Freshman Academy Tailgate Party - 3:30 PM
JV Soccer at Havelock - 5:00 PM
JV Football vs Havelock - 6:30 PM
V Soccer at Havelock - 6:30 PM
Orchestra Concert - 7:00 PM

Friday - October 28th
Senior Graduation Orders - 7:30 AM
V Football at Havelock - 7:00 PM
---
Parking Passes
Available for purchase by all students.
Must have cost of pass $25.00, show valid driver's license and vehicle registration and complete the parking permit contract. Must not owe any fees/lunch charges to purchase a parking pass.
---
Cinch Bags
Pirate cinch bags are available for purchase in the office for $10.00. These were the bags that were available at Freshman Orientation.
---
Registering a New Student?
What you will need:
Birth Certificate

Immunization Records

Parent Photo ID

Proof of Residence (Electric or Water Bill or fax to school from either indicating your address)

Contact information for previous school if outside Onslow County

---